Flexible Online Degrees
Earn an online degree and get closer to your dream job. Our flexible format gives you the opportunity to balance your education with your busy schedule. 
Stay motivated to complete your degree with asynchronous programs so you don't have to put your personal and professional life on hold to be in classes at specific times.
Find the right degree to set your future up for success.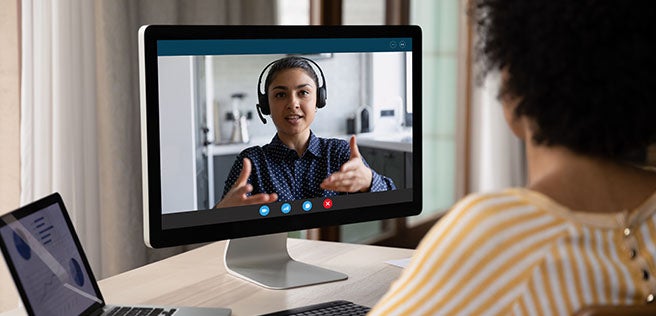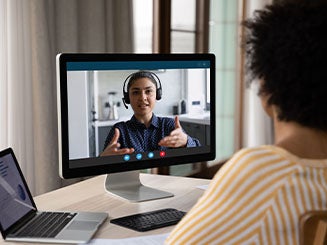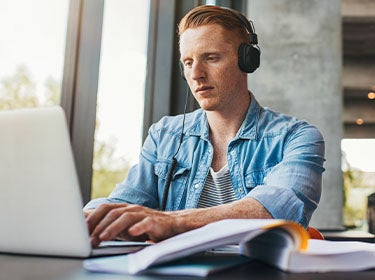 An Online Degree with a Personal Experience
Distance learning classes are enriched through group discussions, student participation, and many opportunities to connect with faculty and classmates in virtual settings.
Online courses are taught by the same faculty who instruct on-campus courses, so you can expect the same high-quality instruction and interaction.
Reach out to our admissions counselors to learn more about our online programs.
Frequently Asked Questions
What is online learning like at Cleveland State University
Online learning at Cleveland State University is offered through a learning management system called Blackboard Learn. Within this system, multiple, separate courses can be delivered to students. Courses are primarily asynchronous — meaning that you usually don't have to log on at specific times — but still contain timelines and due dates to help you stay on track. You can interact with faculty and other students directly through your courses using course tools such as email, discussions, group activities, and web conferences.
As a student, everything you need to do for a course is available from the Blackboard platform. In addition to the course content, each course will contain a comprehensive syllabus, a "start here" section, and a course information section, which contains important information about the course instructor, policies, and other pertinent information for progressing through the course.
Online education is convenient, but it also requires the right attitude and work ethic to succeed. Prior to enrolling in an online program or your first online course, read our tips (below) for being a successful online learner.
How are online classes different from in-person classes?
Cleveland State University's online classes are taught by the same faculty who teach our on-campus classes, so you'll receive the same high level of instruction no matter where you learn. Courses are delivered asynchronously, so you don't have to schedule your life around class times, but you'll still have timelines and due dates to help keep you on track. As an online student, you'll have plenty of opportunities to engage and interact with your faculty and classmates and will be able to network with people across the country.
In short, aside from where you learn, there's really no difference in how or what you'll learn.
Is financial aid available for online students?
Tuition for online programs and courses follows the same fee structure as traditional, on-campus programs and courses. Current CSU Graduate tuition costs can be found on the Bursar's website.
Approximately 70% of CSU's students receive some form of financial assistance. The University participates in or administers all of the major federal and state grant and loan programs. In addition, CSU provides University grants and scholarships.
To begin the financial aid process, you will need to complete the Free Application for Federal Student Aid (FAFSA). You must file a FAFSA every year after January 1st in order to receive your financial aid. Cleveland State University's financial aid school code is 003032.
If you have any questions, visit the financial aid page on our website or contact the Financial Aid office.
What resources are available for online students?
At Cleveland State University, we want you to get the most out of your online education. In addition to the support from faculty, we offer the following resources to help you succeed:
What do you need if you want to take courses online?
To be successful while taking online courses, you must be able to:
Send and receive email with attachments
Download files, programs, and plug-ins
Install programs and plug-ins
Use internet browsers, word processing applications (such as Microsoft Word, Pages, Google Docs, or Open Office) and media players to navigate and interact in the Blackboard environment
Tips for Online Learning
At the beginning of each semester . . .
Assess Your Readiness for Learning
Do not tell yourself that a course will be easy. Instead, prepare yourself to work hard. Most students find online courses to be convenient, yet a lot of work. Plan specific times and places you will be able to work on the course without distractions.
Read All Course Information Clearly
Although online courses often include audio and video, they are still very text intensive. Read through all course requirements, policies, and procedures carefully. It is your responsibility to know this information. If something is not clear to you, ask your instructor as soon as possible.
Pay Close Attention to the Course Calendar
While offering flexibility, online classes aren't completely self-paced. Assignments need to be completed by their due dates and you should notify your instructor as soon as possible if you will not be active in your course for a period of time. Don't assume that you can just catch up later.
Get to Know Your Classmates
Most online courses have an area for course introductions. In addition to posting your own message, be sure to read everyone else's introductions. Do you have any of the same research interests or hobbies? Reaching out to others in your courses can help build a working relationship and enhance your learning outcomes.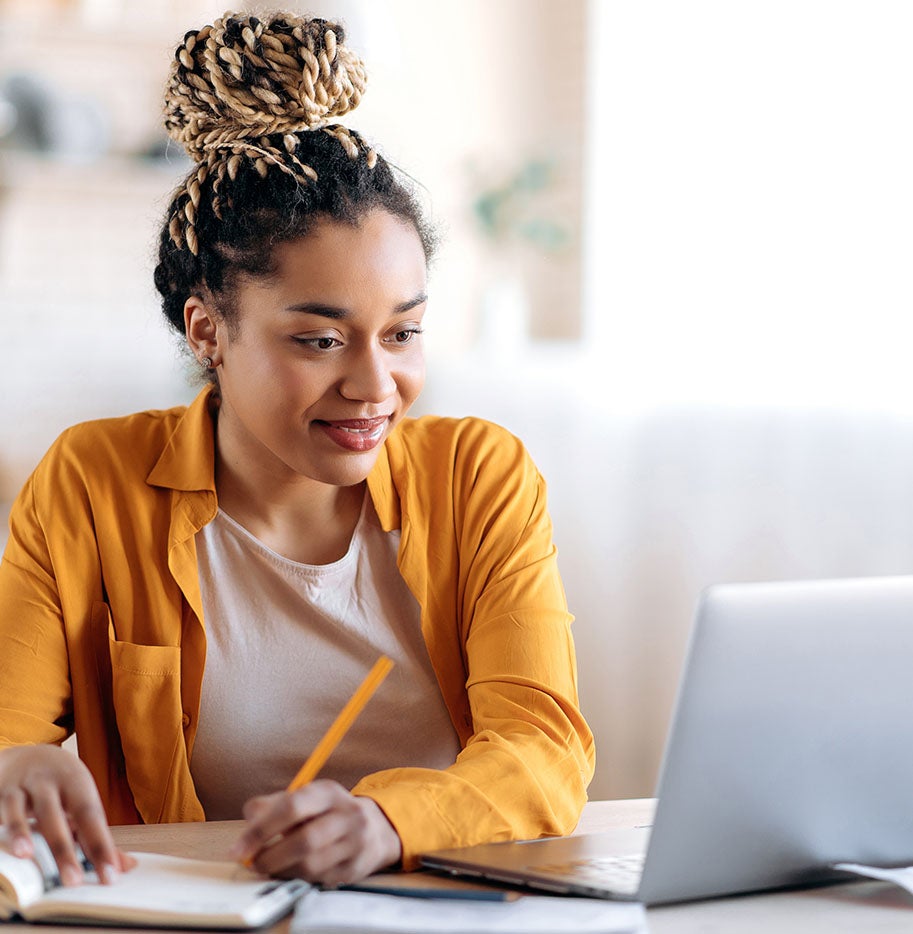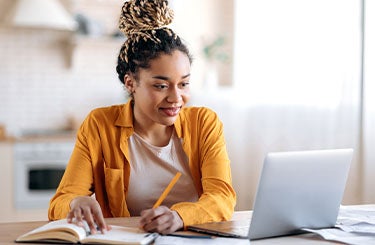 Time Management
In online classes, you will need to stay on top of your weekly assignments. Additionally, compared to in-person classes where discussions are integrated into class time, online discussions need to be thought out, organized, and written. Be sure to plan time for each assignment accordingly.
Below are some time management tips to help keep you from falling into the procrastination trap:
Add up all of the time you spend on work, family obligations, shopping, cooking, sleeping, etc., and note the amount of time you have left. Take an honest look at your commitments and decide where you will fit in your coursework.
Read through assignments clearly and in advance so you have time to ask your instructor questions. Most instructors try to respond within 48 hours.
Plan on logging into each course at least three times a week.
Enter the specific days/times you will work on the course on a calendar. You will be more likely to do your coursework if it is scheduled just like a meeting.
Try not to schedule time to work on the course too close to the due dates. If possible, try to work a little ahead to count for any possible technical difficulties with your personal computer or Blackboard.